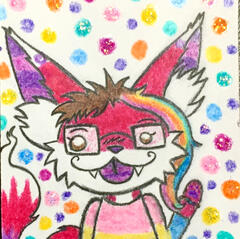 S

c

r

i

b

b

l

e

s
Colorful creature art ♡ Concept doodles ♡ Hand sewn plush
Work
✎ Exploring colorful and surreal themes with cute and quirky creatures ✎
Quick Info
✩Scribbles✩
Genderqueer | Any Pronouns |

Disabled | Crohn's Disease, Arthritis, Depression, and PTSD |

Multifaceted Artist

Lover of rainbows

Sci-fi fan

Animal friend

Video game enthusiast

420 and Psychedelia themes

Advocates for Disability rights, LGBTQ, BLM, and Indigenous people
About
My name is Scribbles!
I'm a queer, disabled artist living in Northern California. I love doodling silly things and designing characters. My specialties are colorful digital illustrations of monsters, aliens, animals, and other fun creatures.
✧

Born in the 80's and a child of the 90's, I love all things rainbow and glitter. I was raised by video games and television and am a huge pop culture nerd. My favorite video games are Pokemon, Animal Crossing, Sonic, Mario and Splatoon. I'm a fan of Sci-fi in all its forms and have lifelong dreams of creature design.
✦

I get much of my love for creature design from my love of animals and nature itself. I enjoy spending my time outdoors when I am able, but otherwise I am a stay at home pet parent and intermittent volunteer at my friend's special needs Cat Rescue, Rocket Cat Rescue.
✧

I've been drawing my whole life and love to experiment with different styles, techniques, and mediums. I dabble in everything from simple and cute, to creepy and detailed. Occasionally I like to make small, hand sewn plush out of felt as gifts for friends. I also have a great interest in street fashion and clothing design.
✦

Due to my fluctuating health issues and brain fog caused by having Crohn's Disease, Arthritis, and depression, my online activity and art creation tends to be slow and sporadic. However, I very much enjoy creating and sharing my art and chatting with friends when I am able.

♥


As a queer disabled person, I advocate for disability rights, and LGBTQ rights. I also advocate for Black lives, Ingenious peoples rights, Healthcare for all, Marijuana decriminalization, and Abolishing the police.

⊘ Do not interact if you take issue with any of this or if you are racist, bigoted, or abusive towards children or animals.